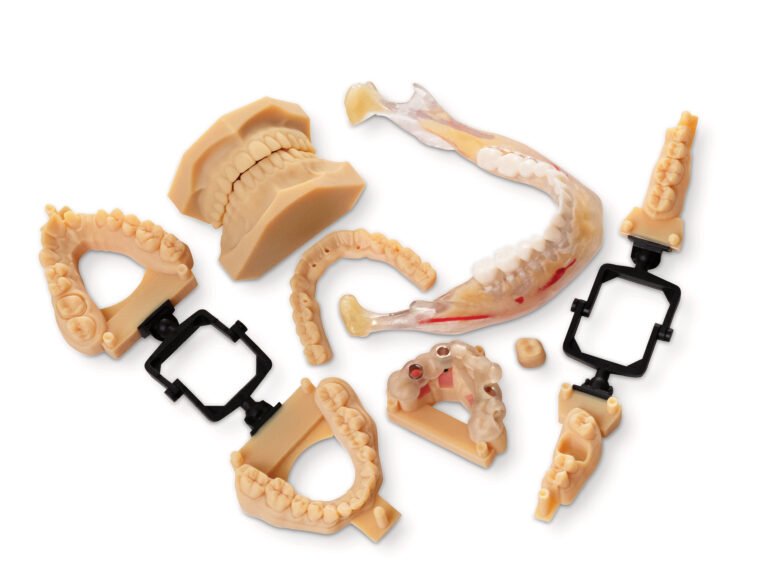 Stratasys J5 DentaJet
The Stratasys J5 DentaJet dental 3D printer provides high throughput. It offers dental labs multiple capabilities for 3D printing implants, orthodontics, retainers, crowns and bridges, fixed restorations, orthodontic appliances and removables with speed and efficiency. This full-color printer has the capacity to print five materials including three biocompatible resins.
Full-color capability enables highly realistic modeling and marketplace differentiation. Separator digital material enables easy removal of orthodontic devices from the model. Mixed-tray printing lets you print full implant cases—model, gingival mask and surgical guide—on the same tray during the same print. The J5 DentaJet offers maximum productivity.

Reduce the number of printers we need and cuts our costs with mixed trays
The DentaJet is like having three printers in one. Use different materials in a single job. Print an implant case with a rigid opaque model together with a soft gingiva mask and a biocompatible transparent surgical guide or print an RPD framework in a castable material together with the patient model.
Unmatched quality and accuracy
The Stratasys J5 DentaJet is designed with a unique 360° print tray to create more highly accurate, full-color, parts from different materials — in a single print — without sacrificing patient specific accuracy.
Harness the power of color
Allows us to show our patients how their treatment will look before starting work.
Leverage full-color capability to differentiate your lab, improve workflow and tracking, and communicate more information.
Reduce C&B remakes with the only dental printer able to create highly realistic replicas of the patient's mouth.
Cut days off delivery times and produce more accurate, comfortable, and effective orthodontic appliances.
Go straight from intraoral scan to in-house production with a seamless digital workflow.
Simplify the production of acrylic orthodontic devices such as Hawley Retainers with Separator Digital Material, which coats models, easing the separation of the acrylic device from the model and making the removal of wax and acrylic residues easy — saving you up to three minutes per model in manual labor and resulting in better surface quality for both the orthodontic device and model.
3D print indirect bonding trays or produce full color study models.
3D Print Dental Implants
Simplify the complexity of implantology and maximize production.
Print opaque and rigid implant models, biocompatible and transparent surgical guides and soft gingival masks — all on one tray — in a single unattended print job.
Print as many as 41 implant cases per day with only two trays.
3D Printing Removables
Speed, precision, and customization that outperforms traditional dentistry.
Replace traditional hand wax-ups and automate the process of cast chrome partials — significantly reducing manual labor.
Boost productivity by printing models and RPD frameworks on a single, mixed-tray — print up to 26 cases per day with only two trays.
Reduce patient visits and resets with precise frameworks — denture and partial try-ins are produced in less time with smooth, biocompatible materials.

3D Printing Dental Crowns and Bridges
Produce a large volume of precise models in high resolution materials increasing your lab capacity.
Eliminate delays and inaccuracies of manual labor, enabling faster production and higher-quality crown and bridge models with fewer remakes.
Enable dentists to seat crowns and bridges in a matter of minutes, minimizing chair time and allowing them to see more patients per day.